Background Information...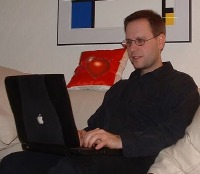 You've asked for it and know you get it... Here is some background information about myself and also my websites. If you have any comments or questions, then you can always use the feedback page to get in touch with me.
My full name is Jochen Marc Savelberg, I'm a 35 year old Leo and I live in the German-speaking part of Belgium. I was born on August 4th, 1975 in Aachen, Germany. My father is from Holland, my mother is Belgian and our dog is from Italy. So we are a really international family... oh, by the way, I've got a brother, Mike, he's 34 years old.
Would you like to get more information about Belgium and especially the part where I live? Then check out these sites:
A weekly column about Belgium that I've written for an Australian newspaper. 6 issues background information about culture, traditions, beer, etc.
Information about East-Belgium - this website is run by my father's company... it has information in German, French, English and Dutch. You could spend days reading all the information that is available.
The weather in Belgium - pictures of the local weather situation as shown on national TV. My father is one of the volunteer photographers for the national weather forecast.
Would you like to know about my hobbies? Well here they come: volleyball, basketball, swimming, billiard, darts, nightclubbing, travelling, socializing, dancing, driving,...
More information about my hobbies and my work can be found on these websites: http://www.buff.euregio.net/ and http://jmsc.euregio.net
I like all different kinds of music. My favourite band is Savage Garden and I like Phil Collins' music a lot. However there are plenty more songs that I like... I've listed them on right here...
Last but not least, I've got some more photos to show you... Click here